You and your body must be followed for the rest of your life, and therefore it is important to take good care of it so that it not only appears healthy, but also thrives physiologically. In a stressful and hectic everyday life, muscle tension can quickly arise, which can be difficult to release.
During massage, the muscles loosen slowly and the blood circulation around the muscle fibers increases. Thus, accumulated waste products are removed while the muscles are fed with oxygen and nutrients.
At the same time, your body finally gets peace of mind to relax and breathe out – when your blood pressure is lowered, the secretion of the stress hormone cortisol is stopped, and massage can therefore also be a good shortcut to get rid of palpitations and worries. Our massage treatments are based on you, your body and your personal needs, and are tailored by our skilled therapists, with exactly the products that suit you.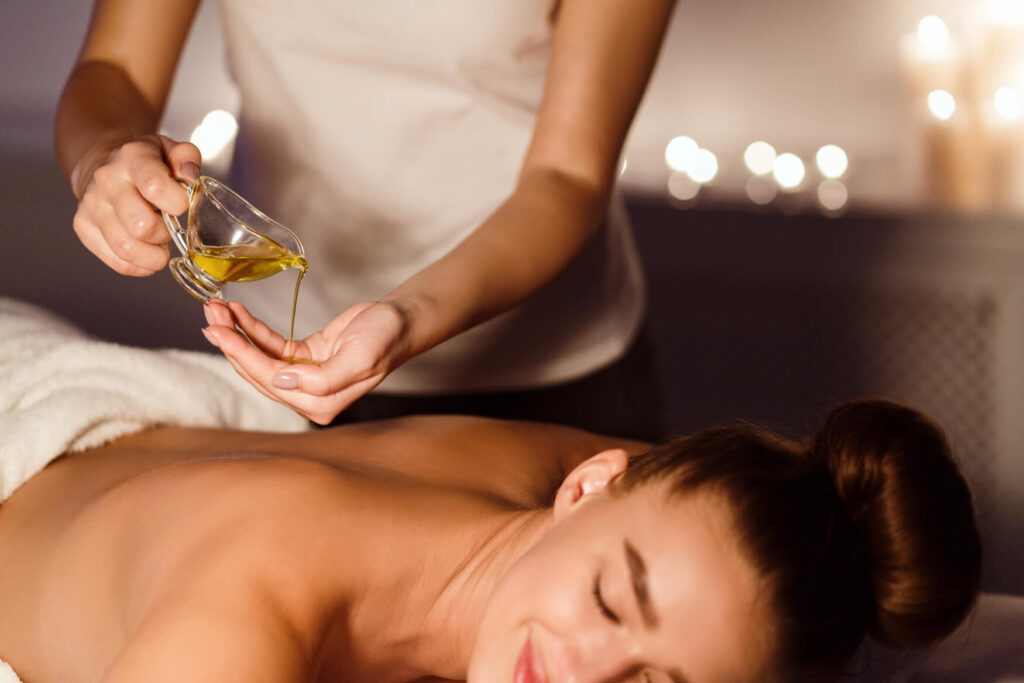 AROMATHERAPY MASSAGE
Comfortable but effective body massage based on long, calm, and de-stressing roof with warm, organic aromatherapeutic oils, selected according to clients need and desire.
DEEP TISSUE MASSAGE
In-depth body massage with a focus on releasing the body's deep-seated myoses and tensions. Hot, organic aromatherapeutic oils are used, selected according to need and desire.
HOTSTONE MASSAGE
Hot stone is a form of massage in which heated lava stones are massaged with de-stressing, rolling and gentle movements on the body. The heat from the stones spreads slowly to the whole body, penetrates deep into the muscles and releases all tension.
The lava rock is heated and laid at strategic points on the body, where the heat from these penetrates into the depths and releases tension. At the same time, lubricate the body with oil and massage with about 50 degrees hot lava rock. The deep massage strokes, combined with the hot stones, provide a wonderful, relaxing and healing massage that relieves sore and stiff muscles.
BAMBOO MASSAGE
Bamboo massage - a wonderful symphony of massage that goes in depth, with a touch of wellness from the heated bamboo sticks, which are used to massage with.
DIFFERENT BODY MASSAGE - 1 HOUR
Aromatherapy Massage
510 kr
Deep Tissue Massage
595 kr
MISCELLANEOUS MASSAGE - 15 MINUTES
Neck and shoulder massage
250 kr
You will get your own customized massage oil blended right in front of you as per your mood, taste and preferences. After the massage when you walk out of salon, you will be completely relaxed, de-stressed, energized, in calm and composed mindset. You will always love coming back here and pamper yourself with massage.